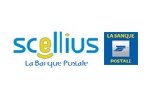 To ensure the security of your payments, we use " Scellius ", the bank card payment solution developed by our bank la Poste.
With this system, your payment is made directly to our account on our bank's secure server ( la Poste ).
At no time will your card number be made known to us. We use the SSL 3 (Secure Socket Layer) protocol to encrypt and protect all exchanges on the Internet. This protocol has become a worldwide standard and is supported by the major browsers. The data is not kept by the bank's server, that is also why there are asked again for every transaction.

We also offer the worldwide known PayPal service.
PAYEMENT BY WIRE TRANSFER
Please send your transfer to the following account. Don't forget to mention your order number in the title :
Bank: CIC PARIS CENTRE ENTREPRISES
IBAN FR76 3006 6109 1100 0104 7930 130
BIC CMCIFRPP